Clever Maniacs Story
Sometimes, what a business needs more than anything — certainly more than another expensive marketing product — is top drawer marketing advice from a group of clever, experienced, creative business people. This simple thought gave rise in 2010, to Clever Maniacs.
Maniacs offer integrated solutions matched to their specific goals. We continually evaluate the market performance and the buzz around social media — especially Facebook. And as if that wasn't enough, we strive to capture the combined mood generated by the myriad digital shards that make up the Twitter-sphere.
Addiction Treatment Marketing
Marketing Drug & Alcohol Rehabilitation facilities in South Florida
The State of Florida shoulders a mighty share of the USA's drug rehabilitation challenges. 33% of all rehab facilities in the United States are situated there. Clever Maniacs are industry leaders in the digital marketing needs of this highly differentiated sector.
Full service digital marketing agency
Clever Maniacs collaborate with innovative companies to develop effective content strategies. Our experience in this field has led to a proven track record in enhancing our customers search engine rankings. We have 4 core values: Transparency, persistence, trust, and integrity. Delivery is our promise.
But it's not about us. It's about what we can do for you. Our objectives are simple:

Drive traffic

Generate leads

Convert prospects into patients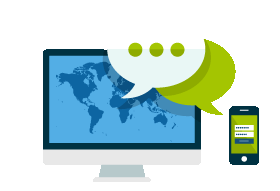 Our expertise extends from search engine optimization to social media marketing, email marketing and digital marketing. Best of all — we specialize in supporting the Drug and Alcohol Rehabilitation and Treatment industry is Clever Maniacs' specialty!
Web Design
The team at Clever Maniacs sees strategically creative web design as a business solution. The interleaving of appropriate web marketing tools through each customer's web strategy helps them reach their target audience effectively, by creating engaging online experiences, which in turn make customers out of visitors.
The creative and commercial advantages of this method include:

Professional website design

E-commerce web development

Interactive web applications

Web video

Mobile website solutions
Top website developers create maximum value for their customers by blending SEO marketing strategies with creative design and dynamic web programming in just the right proportions.
But our customer support does not stop there. The conclusion of website development triggers a structured program of online brand promotion.
12
Websites for TOP 500 companies
17
Complex intranets for corporations
97
Popular Facebook applications
74
E-mail marketing strategies
36
Experienced Web Development Ninjas
SEO
Clever Maniacs combines all the elements of each client's corporate identity, increasing discoverability and ranking on Google, Yahoo and Bing.
We use reputation management techniques to clearly identify who you are, what you do and how you out-perform online competition. We clearly establish your location(s) in the minds of clients so they always know how to reach you. Only then do we ask the question 'why'. To sell to your potential market, your clients-to-be must understand why they should choose only you.
24mm
Bounce Rate – Decrease
$1350
Average Visit Duration – Increase
18K
Average Traffic Increase Gained
Brand Development

We will listen carefully to your vision — for your new venture, or for your existing business as it attempts to thrive in this new century.

We evaluate your goals and your target market. Are you looking for a web-based business? Or perhaps you intend building a global franchise ?

Whatever your dream, our creative team will nurture it before delivering a unique brand management plan. Your brand will become your signature, your logo design, and your new flag.

We are committed, through your vision, to help you build best-in-class relationships with your customers.

Name Development

Domain Name Strategy

Market Research

Visual Identity

Custom Logo Design

Web Identity

Business Plan Development

Store Design and Floor Plans
Why choose Clever Maniacs for online brand promotion ?
We believe that getting found on Google is no longer enough. The challenge faced by companies easily located on Google is this: Their strengths and weaknesses are laid out for all to see online, including, of course, their competition.
Our take on Online Brand Promotion is that an integrated approach to its elements — reputation, social business and search efforts — is essential to the conversion of surfers to buyers.
Pay-Per-Click Marketing
The use of Pay per Click raises brand profile, providing immediate market entry, widening reach and market exposure. These effects are the direct result of search engine algorithms percolating your brand to the top of search results.
We construct our client strategies within the context of the market conditions in which they find themselves. Pay per Click services include social, paid search, video, and display advertising. We also offer PPC re-marketing.
Maximizing ROI is a primary objective. To this end we actively monitor client portfolios 24/7. Our bespoke methods produce excellent results. These include a detailed analysis of our clients' businesses and aspirations regarding Pay per Click advertising.
Paid Search Advertising
We also help our client's maximize their ROI through PPC search advertising — a highly effective method.
PPC Remarketing
We will help convert prospective customers into 'fans'. Our team will help you develop a strategy to build relationships with users who have expressed an interest.
Social Advertising
By collaborating with you on brand-awareness, we'll evolve a strategy aligned to your specific business plan and its key objectives.
Display Advertising
We also tailor highly successful display-marketing plans which raise awareness of your brand, transforming potential customers into paying customers.
Video Advertising
We'll raise brand profile through online video marketing.